of your lifetime healthcare
can be provided by your
Primary Care Provider.
That's why we care about restoring
the doctor-patient relationship and
giving you direct access to your PCP.
HOW THE CURRENT (BROKEN) SYSTEM WORKS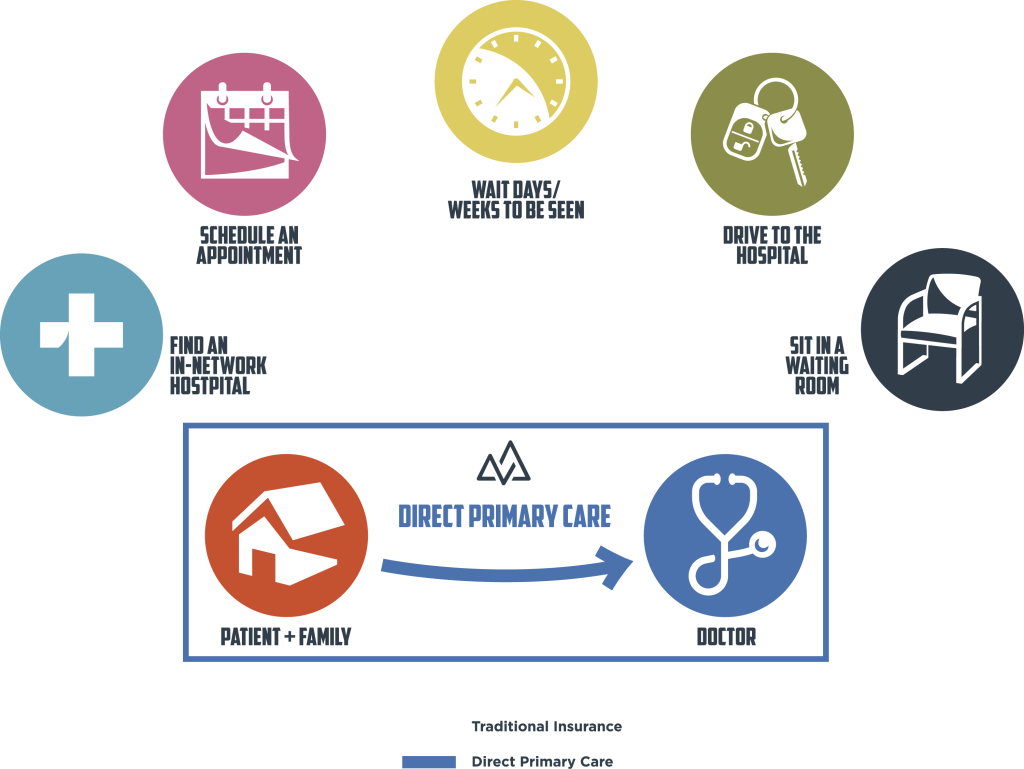 No wait times, no insurance hassles, and no hidden costs translates to improved outcomes along with transparent pricing for ancillary services.
Our extensive Health Access network allows members to choose from a wide variety of contracted rates on labs, imaging, prescriptions, and more.
Frontier Direct Care is MORE than just Primary Care
MONEY
Q: Does FDC accept insurance?
A: Frontier Direct Care is a membership based subscription to a team of doctors and clinics. Your insurance may be utilized for lab services. For example, if your PCP orders lab work or imaging your insurance can be utilized. Your insurance is not necessary for the clinic visit since this cost is covered through your monthly membership.
Q: What is the co-pay or office visit fee?
A: Since your visits are covered through your monthly membership fee, no co-pays are required. With your membership you can call, text, and visit your provider as much as you need. The only items not covered through your membership cost are lab and imaging services which can be filed to your insurance carrier.
SERVICE
Q: What is included in my membership?
Direct access
On time appointments
Frontier Health Access: negotiated rates for ancillary services
Transparent pricing: no added fees for common office procedures
Q: What is Frontier Health Access (FHA)?
A: FHA is for the 10% (specialists) that Direct Care does not cover. This is the contracting arm for specialty services. FHA gives you our member transparency and access to cash pay agreements we have signed on your behalf.
Q: What services are at no extra cost/what do I have to pay for out-of-pocket?
A: Our healthcare teams have the ability to treat a wide range of needs at no additional cost such as acute illnesses, sports physicals, women's health, and other minor procedures. For a more comprehensive list, please review our Service List (Link above). Transparent pricing is our goal. We are here to help answer any questions you might have. Please call/text Member Services with any questions you may have.
Q: Does FDC see patients who are pregnant?
A: We do see pregnant patients up until the 2nd trimester, after which time, we will refer you to an obstetrician for the rest of your care for pregnancy and labor/delivery. After your baby is born, we would be happy to resume care for you and your newborn. Of course if you have any questions or concerns during your 3rd trimester, please feel free to contact your health care team.
SCHEDULING
Q: How do I schedule an appointment?
A: For urgent needs or same day appointments, you can schedule an appointment:
1. Online
2. By calling/texting your health care team
3. By calling/texting Member Services (M-F 8-5)
For routine, follow up, and non-urgent needs, you can schedule an appointment:
1. Online
2. By calling/texting Member Services (M-F 8-5)
Q: Does FDC take walk-in's?
A: Although we do not accept walk-ins, we may be able to get you scheduled for a same-day appointment. To schedule, visit frontierdirectcare.com, call/text your health care team, or call/text Member Services.
Q: Do I have to show up early for my appointment time?
A: There is no need to, unless you want to enjoy a cup of coffee away from the world for a minute. We strive for on time appointments and we do not double book because your time is valuable. With that being said, if you are running late, please call Member Services and they will help navigate the next steps.
Q: How long is a member's visit at Frontier?
A: For your first visit, we schedule an hour for you to meet your healthcare team! During this time you can go over all your medical history and needs. Subsequent visits are 30 minute appointments.
WHO DO I CONTACT
Q: Who should I contact when I need a prescription refill?
A: While prescription refills can be fairly simple, it's important to contact your health care team directly to request the refill. Please give them plenty of notice.
Q: Who should I contact about billing/payment?
A: We ask that you call Member Services using the phone number for your assigned clinic.
Q: Who should I contact when I need an appointment?
A: Appointments can be made 24/7 at frontierdirectcare.com! If you are unable to find a time that works for you, please call/text Member Services. If it is an urgent need, please call/text your healthcare team.